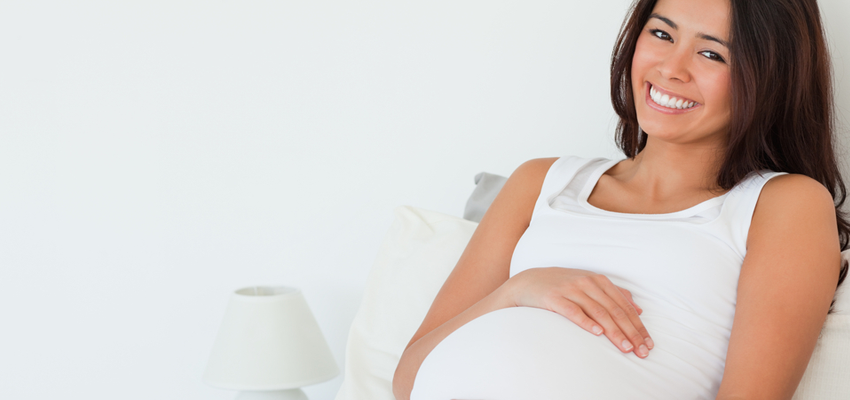 It's important for you to take good care of your teeth and gums while pregnant. Pregnancy causes hormonal changes that increase the risk of developing gum disease which, in turn, can affect the health of your developing baby.
Below are some tips to help you maintain good oral health before, during, and after pregnancy.
Before You Get Pregnant
Try to make a dental appointment before getting pregnant. That way, your teeth can be professionally cleaned, gum tissue can be carefully examined, and any oral health problems can be treated in advance of your pregnancy.
Dental Care While Pregnant
Tell your dentist (and doctor) if you are pregnant. Routine dental care can be done any time during pregnancy. Any urgent procedure can be done, as well. All elective dental procedures, however, should be postponed until after the delivery. Before you have your dental appointment, check with your obstetrician to see if she has any special precautions/instructions for you.
Tell your dentist the names and dosages of all drugs you are taking – including medications and prenatal vitamins prescribed by your doctor – as well as any specific medical advice your doctor has given you. Your dentist may need to alter your dental treatment plan based on this information.
Dental X-rays can be done during pregnancy. Your dentist will use extreme caution to safeguard you and your baby, such as shielding your abdomen and thyroid. Advances in technology have made X-rays much safer today than in past decades.
Don't skip your dental checkup appointment simply because you are pregnant. Now more than any other time, regular periodontal (gum) exams are very important, because pregnancy causes hormonal changes that put you at increased risk for periodontal disease and for tender gums that bleed easily – a condition called pregnancy gingivitis.
Having Dental Work During Pregnancy Safe?
Pregnancy and dental work questions are common for expecting moms. Preventive dental cleanings and annual exams during pregnancy are not only safe, but are recommended. The rise in hormone levels during pregnancy causes the gums to swell, bleed, and trap food causing increased irritation to your gums
No matter what symptoms you have during pregnancy, you should always take care of your teeth with good habits that include regular flossing and brushing to ensure you maintain healthy teeth and gums throughout your pregnancy.
What About Medications Used In Dental Work During Pregnancy?
Currently, there are conflicting studies about possible adverse effects on the developing baby from medications used during dental work. Lidocaine is the most commonly used drug for dental work. Lidocaine (Category B) does cross the placenta after administration.